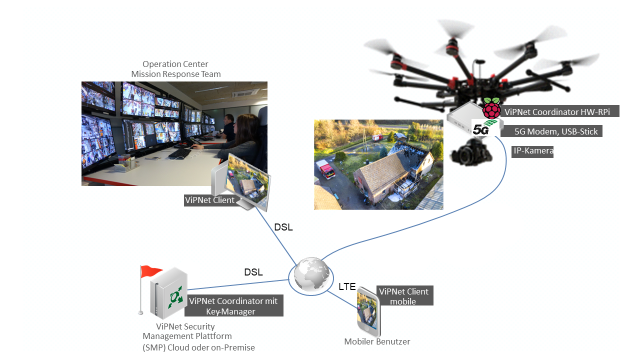 On January 29, 2020, the USECASE 5G Drone took place at the Fraunhofer Heinrich Hertz Institute in Berlin.
The use of drones for fire detection enables the fire department to perform a precise analysis of the source of the fire from a bird's eye view as well as the targeted deployment of rescue vehicles to fight the source of the fire. This precise pre-analysis by the incident commander in the control center saves the unnecessary commitment of rescue forces as well as material and significantly reduces the deployment costs.
When an alarm is raised via the 112 emergency number at the fire department's operations control center, the GPS data of the source of the fire is transmitted to the drone, which is distributed across the city of Berlin on the roof of each fire department control center. The drone takes off and flies autonomously to the source of the fire. The camera in the drone transmits the live video images via the 5G mobile network to the operations control center. Here, based on the situation picture, the incident commander makes the decision which emergency forces are needed on site. Since the drone flies directly to the source of the fire, the incident commander has a considerable time advantage over the on-site situation assessment, since the emergency forces normally have to move through rush-hour traffic to reach the source of the fire. Under certain circumstances, this can save lives. 
The test flight of the drone would be conducted with 5G testbed partners germandrones GmbH and Infotecs GmbH.
Infotecs has developed a military grade encryption technology, which is particularly characterized by the low latency of video transmission over the cellular network. The video images are transmitted live with such low latency that a BVLOS (beyond visual line of sight) flight of the drone is possible. This also enables the drone to be controlled via the mobile network. The encryption of the video data is necessary due to the EU Data Protection Regulation. Infotecs' technology also prevents unauthorized persons from copying the videos sent from the drone to the operations control center and distributing them via social networks, for example.
The advantage of 5G technology especially when using drones is the slicing as well as the timing.
Via timing functionality, the location of the drone in the air can be determined very accurately via the existing radio cell technology. Through the signature (SIM card) that is installed in the drone from Infotecs, a dedicated drone assignment (good drone-bad drone) can also be made.
Dedicated bandwidth is made available to authorities (police / fire department, etc.) via the slice.